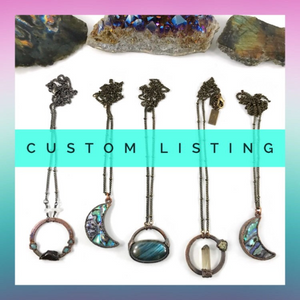 Rockandy
Custom Listing for Jennifer - Black Tourmaline and Opal Ring
Regular price
$55.00
$0.00
This is a custom listing for a size 5.75 electroformed two stone ring. A small raw Australian opal and small raw black tourmaline stone will be set side by side in copper. The ring will be oxidized and sealed to preserve the finish. Shipping costs are included in this listing. 
Note: The opal and black tourmaline stones are natural, which means they may have imperfections. This ring will be created through a process called electroforming, which allows copper to build up over several hours. It is unpredictable and results in one of a kind and unique pieces. However, there may be small nicks, pits and bubbles in the copper as it is a natural process. Additionally, please be aware that over time, the oxidation may wear off especially in places that run against your skin frequently.
Black Tourmaline (October Birthstone):
Black tourmaline is a powerful protection stone that may help protect against and repel negativity. It is also believed to guard against environmental pollutants and radiation. Additionally, rubbing black tourmaline is thought to bring good luck and happiness.
About the Opal (October birthstone):
Opal aids in strengthening personal and business relationships. It is said to bring fidelity to love. Opals are considered water stones due to the large amount of water they contain. As a result, opals may be beneficial in handling life changes. Opal is also a soothing stone that may help to balance mood swings. Additionally, opals are believed to improve memory, and decrease confusion.
---