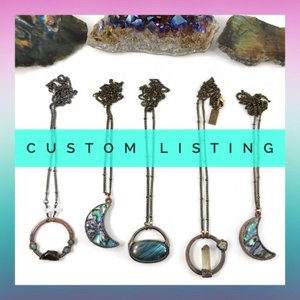 Rockandy
Custom Listing for Raquel: Birthstone Wideband Ring
Regular price
$75.00
$0.00
This is a custom listing for a size 8.5, copper electroformed ring featuring a moonstone crescent moon and five stones: 2 raw aquamarine (March), 1 raw emerald (May), 1 raw citrine (November) and a tiny herkimer diamond (April). The stones will be set inside/overflowing out of the moon on a wide copper band. The ring will be sealed to protect the finish. Shipping costs are included in this price of this listing. There is a 3 week turnaround time prior to shipping to create the ring.
Note: The stones are natural and may have imperfections such as inclusions. This pendant was created through a process called electroforming, which allows copper to build up over several hours. It is unpredictable and results in one of a kind and unique pieces. However, there may be small nicks, pits and bubbles in the copper as it is a natural process. Additionally, please be aware that over time, the color of the copper will naturally begin to darken and oxidation can wear off. For more copper care information, please visit the FAQ section of the site.
About Aquamarine (March Birthstone)
Aquamarine is said to protect all who travel by, over or near water. It may bring feelings of peace, calmness and hope. It is also known as a stone of courage, and is believed to assist with reasoning and quick intellectual response.
About Moonstone (June Birthstone):
Moonstone is believed to bring hope and good fortune. It is associated with calmness and the relief of stress. It may promote inspiration, enhance intuition and offer protection during childbirth, pregnancy and travel at sea.
About Citrine (November Birthstone):
Citrine is known as the "success stone" because it is believed to help you achieve your personal goals. Citrine may also help eliminate negativity and inspire enthusiasm, originality, and self-confidence.
About Emerald (May Birthstone):
The emerald is the beautiful green birthstone for May. Emeralds are a symbol of faith and hope. They are thought to preserve love and romance, and are said to bring loyalty, passion and domestic bliss with unconditional love to relationships. The emerald is also believed to bring the wearer reason and wisdom. Additionally, these stones may improve intuition, and communication, and promote truthfulness.
About Herkimer Diamond (April Birthstone(:
Herkimer diamonds are six-sided double terminated quartz crystals. However, unlike quartz they are totally clear and mimic the appearance of diamonds. They are thought to assist with balancing the body, mind and spirit. Herkimers may be beneficial in attuning yourself with others, and your surroundings. They may also relieve tensions, producing a calming effect.
---