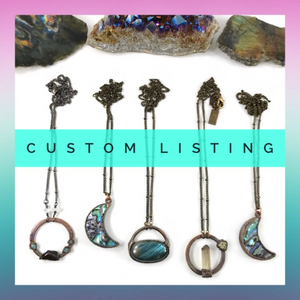 Rockandy
Custom Listing for SM - Rose Quartz Heart Ring
Regular price
$35.00
$0.00
This is a custom listing for a size 7.5 electroformed rose quartz heart ring on a wide moon and stars band. This ring was sealed to preserve the finish. Per the auction listing, there is a little bit of latex stuck under the bezel of this ring. It is barely visible, but if a latex allergy is present, it should not be worn.
Note: The ring was made with a natural stone, which means there may be imperfections. It was created through a process called electroforming, which allows copper to build up over several hours. It is unpredictable and results in one of a kind and unique pieces. However, there may be small nicks, pits and bubbles in the copper as it is a natural process. Additionally, please be aware that over time, the color of the copper will naturally begin to oxidize and darken. Your copper jewelry may be cleaned using lemon juice or a vinegar/salt solution. Please see the FAQ section of the website for more information about caring for and wearing copper jewelry.
About Rose Quartz:
Often referred to as the "love stone," rose quartz is a stone of unconditional love. It is believed to inspire forgiveness, and help you to let go of anger and jealousy. It is also associated with fertility. 
In love
Five stars...I am in love with this heart-shaped rose quartz electroformed copper ring! It's gorgeous, fits perfectly (and comfortably), and shipped fast.
---