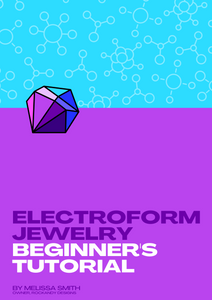 Rockandy Designs
Electroform Jewelry Beginner's Tutorial
Regular price
$20.00
Sale price
$25.00
I became interested in electroforming in 2014. At the time, there were very few resources out there, and still today, it is difficult to wrap your head around where to start and how to learn the process.
I still remember that feeling of excitement mixed with nerves and a bit of confusion the night I electroformed my first ring. I really had no idea what I was doing. This is why I decided to create a tutorial to teach you about the art of electroforming, the materials you need to start, and how to avoid newbie mistakes.
This 20-page guide covers the materials needed to get started, 
The materials you'll need to get started
Safety information
An introduction to electroforming
Rectifier 101
How to set up your equipment properly
How and why adhesives are used
Tips and techniques for using conductive paint
How to use sealant properly
A walkthrough of making your first piece
And a glossary of common electroforming terms
Top :)
I'm from Germany and there are almost no instructions for electroforming. I found Rockandy and love her work. I asked her a lot and she always answered me so kindly. I am so thankful for her and the course it is perfect.
Excellent Electroforming Guide
I had been looking for a beginners walkthrough to get started electroforming on my own for a while and this one was PERFECT. Not only is it easy to follow, but the list of the exact products you'd need, and why, was exactly what I was looking for. Thank you for putting all of this together!!
---