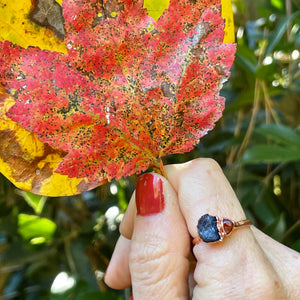 Rockandy
Iolite and Carnelian Ring
Regular price
$51.00
$0.00
One of a kind ring made with a tumbled carnelian stone and raw iolite stone electroformed side by side in copper. This ring is a size 6.5 - 6.75 and cannot be resized. This ring has been sealed to preserve the finish and slow oxidation.
Note: The stones are natural, which means they may have imperfections. This pendant was created through a process called electroforming, which allows copper to build up over several hours. It is unpredictable and results in one of a kind and unique pieces. However, there may be small nicks, pits and bubbles in the copper as it is a natural process. Additionally, please be aware that over time, the color of the copper will naturally begin to darken.
About Carnelian:
Carnelian is vibrant orange colored stone associated with success, confidence and good luck. It is thought to remove fear and bring courage, energy and creativity to those who wear it. It is also connected to fertility and sexual energy.
About Iolite:
Iolite is believed to help with expressing your true self, and taking responsibility.  It may help with recovering balance for those suffering from lack of motivation, disorganization, and distraction. It also may assist with the elimination of debt and money management.
---