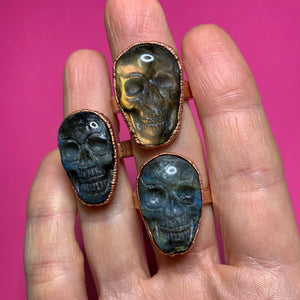 Rockandy
Labradorite Skull Ring
Regular price
$75.00
$0.00
Orange flash labradorite skull set in copper on a wide copper band. The copper will be oxidized to a gunmetal finish and sealed to protect the patina. The ring is size 8.5 and cannot be resized.
Note: This ring was created through a process called electroforming, which allows copper to build up over several hours. It is unpredictable and results in one of a kind and unique pieces. However, there may be small nicks, pits and bubbles in the copper as it is a natural process. Additionally, please be aware that over time, the color of the copper will naturally continue to darken.
About Labradorite:
Labradorite is known as the stone of destiny and is believed to help you to find your true path in life. It is said to promote wisdom and understanding. It also assists in eliminating fears and insecurities.
---